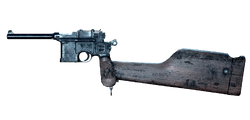 Two handed weapons are exclusively rifles,shotguns,Crossbows and some pistols with rifle stocks. All two handed weapons inflict blunt-type damage when used as a melee weapon; shotguns deal rending damage when fired. Rifles use different types of bullets while shotguns all use shotgun shells.
Other variations:
Shotguns
Edit
Crossbows
Edit
Announced but unreleased:
Community content is available under
CC-BY-SA
unless otherwise noted.