The Vaporizing Inhaler is an advertisement found within the Louisiana Incident book and is its very last entry.
Transcription
Edit
This article is a direct copy of official lore.
Please refrain from editing it.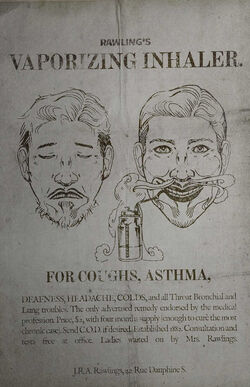 RAWLING'S
VAPORIZING INHALER
FOR COUGHS, ASTHMA,
DEAFNESS, HEADACHES, COLDS and all Throat Bronchial and Lung troubles. The only advertised remedy endorsed by the medical profession. Price, $2, with four months supply (enough to cure the most chronic case). Send C.O.D. if desired. Established 1882. Consultation and tests free at office. Ladies waited on by Mrs. Rawlings.
J.R.A. Rawlings, 42 Rue Danphine S.
Community content is available under
CC-BY-SA
unless otherwise noted.