The Railway Tickets comprise the eighth and ninth sections of the Louisiana Incident book. The first page has two of them, while the second has only one. For purposes of completeness, the entirety of the tickets are transcribed, though some signatures are illegible.
Transcription
Edit
This article is a direct copy of official lore.
Please refrain from editing it.
Queen Crescent ticket
Edit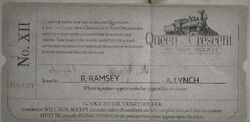 No. X11
AUGUST
Queen Crescent Southern Railway
GOOD FOR TRAVEL FOR TWO ALONG THE QUEEN AND CRESCENT ROUTE FROM CINCINNATI TO NEW ORLEANS AND FREE TRANSPORTATION OF 100 POUNDS OF BAGGAGE PER PERSON. THIS TICKET WILL NOT BE ACCEPTED FOR PASSAGE AFTER DATE CANCELED IN MARGIN HEREOF, AND IS WORTHLESS IF MORE THAN ONE DATE IS CANCELED.
Issued to: R. RAMSEY, A. LYNCH
Who signatures appear on the last page of this document. (note that there are faded signatures, seemingly in reverse, near each name.)
NOTICE TO TICKETHOLDER
Conductors WILL NOT ACCEPT this ticket unless all conditions are fully complied with, and that the contract MUST BE properly SIGNED IN INK by the person whose name appears on the ticket.
Georgia Railroad ticket
Edit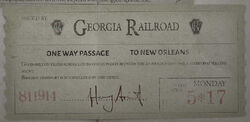 ISSUED BY: GEORGIA RAILROAD
ONE WAY PASSAGE TO NEW ORLEANS
GOOD ONLY ON TRAINS SCHEDULED TO STOP AT POINTS IN BETWEEN THE ABOVE LOCATIONS WHEN STAMPED BY SELLING AGENT.
BAGGAGE TRANSPORT IS NOT INCLUDED IN THIS TICKET.
811914 (illegible signature; perhaps Henry with surname starting with "A")
(Presumably says "Not Good After") MONDAY 18 (last two digits of year rubbed off) 5-17
Western New York ticket
Edit
WESTERN NEW YORK & PENNSYLVANIA RY CO.
BUFFALO, N.Y. MARCH 15 1895
PASS: GUS MARCH
FROM: BUFFALO TO: NEW ORLEANS
GOOD FOR ONE TRIP ONLY UNTIL APRIL 15, 1895 UNLESS OTHERWISE ORDERED
WHEN COUNTERSIGNED BY: (illegible signature, appears to start with "L")
NO: 2515216151512
Community content is available under
CC-BY-SA
unless otherwise noted.