The Pellella Note is the sixth part of the Louisiana Incident book.
Transcription
Edit
This article is a direct copy of official lore.
Please refrain from editing it.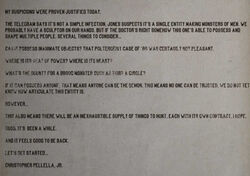 MY SUSPICIONS WERE PROVEN JUSTIFIED TODAY.
THE TELEGRAPH SAYS IT'S NOT A SIMPLE INFECTION. JONES SUSPECTS IT'S A SINGLE ENTITY MAKING MONSTERS OF MEN. WE PROBABLY HAVE A SCULPTOR ON OUR HANDS. BUT IF THE DOCTOR'S RIGHT SOMEHOW THIS ONE'S ABLE TO POSSESS AND SHAPE MULTIPLE PEOPLE. SEVERAL THINGS TO CONSIDER...
CAN IT POSSESS INANIMATE OBJECTS? THAT POLTERGEIST CASE OF '86 WAS CERTAINLY NOT PLEASANT.
WHERE IS ITS SEAT OF POWER? WHERE IS ITS HEART?
WHAT'S THE BOUNTY FOR A BROOD MONSTER SUCH AS THIS? A CIRCLE?
IF IT CAN POSSESS ANYONE, THAT MEANS ANYONE CAN BE THE DEMON. THIS MEANS NO ONE CAN BE TRUSTED. WE DO NOT YET KNOW HOW ARTICULATE THIS ENTITY IS.
HOWEVER...
THIS ALSO MEANS THERE WILL BE AN INEXHAUSTIBLE SUPPLY OF THINGS TO HUNT, EACH WITH ITS OWN CONTRACT. I HOPE.
GOOD. IT'S BEEN A WHILE.
AND IT FEELS GOOD TO BE BACK.
LET'S GET STARTED...
CHRISTOPHER PELLELLA, JR.
Community content is available under
CC-BY-SA
unless otherwise noted.