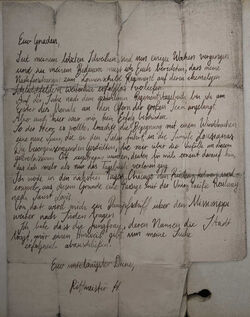 The German Letter is the seventh part of the Louisiana Incident book. It references Louisiana, Chicago, the Union Pacific Railway, and Mississippi. It was written by Rittmeister H. "Rittmeister" is a German military rank.
Transcription
Edit
This article is a direct copy of official lore.
Please refrain from editing it.
Euer Gnaden,
Seit meinem letzten Schreiben sind nun einige Wochen vergangen und zu meinem Bedauern muss ich Euch berichten, dass meine Nachforschungen zum Löwenschild Regiment auf deren ehemaligen Schlachtfeldern weiterhin erfolglos verliefen.
Auf der Suche nach dem gestohlenen Regimentstagebuch bin ich am Ersten des Monats an den Ufern der großen Seen angelangt. Aber auch hier war mir kein Erfolg beschieden.
So der Herr es wollte, brachte die Begegnung mit einem Winddrachen eine neue Spur, die in den Süden führt, in die Sümpfe Louisianas. Die besorgniserregenden Geschichten, die mir über die Vorfälle an diesem gottverlassenen Ort zugetragen wurden, deuten für mich erneut darauf hin, das doch mehr als nur das Tagebuch verloren ging.
Ich werde in den nächsten Tagen Chicago den Rücken kehren und erwarb aus diesem Grunde eine Passage mit der Union Pacific Railway nach Saint Louis.
Von dort wird mich ein Dampfschiff über den Mississippi weiter nach Süden tragen.
Ich bete dass die Jungfrau, deren Namen die Stadt trägt, mir einen Hinweis gibt, um meine Suche erfolgreich abzuschließen.
Euer untertänigster Diener,
Rittmeister H.
English translation
Edit
Your Grace,
Several weeks now have passed since my last letter and to my regret I have to tell you that my investigations about the Löwenschild Regiment on their former battlefields continued to be unsuccessful.
While searching for the stolen regimental journal I arrived at the shores of the Great Lakes on the first of the month. But also here there was no success.
As the Lord wanted, an encounter with a dragon brought me a new track that leads to the south, into the swamps of Louisiana. The worrisome stories about the incidents at this godforsaken place that were passed along to me, suggest to me again that more than just the diary was lost.
Because of this I'm going to turn my back on Chicago in the next few days and purchased passage with the Union Pacific Railway to Saint Louis.
From there a steamer will take me across the Mississippi further south.
I pray that the Virgin, whose name the city carries sends me a clue to successfully finish my search.
Your most humble servant,
Rittmeister H.
"Löwenschild" translates to "lion's shield".
Community content is available under
CC-BY-SA
unless otherwise noted.